The International Institute of Cosmetology would like to congratulate Alison Johnson for
receiving student of the month at our Wethersfield Campus!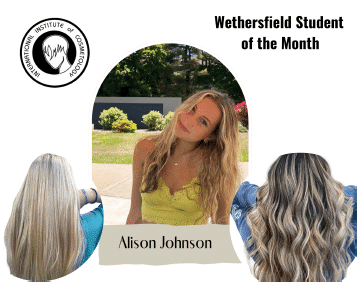 Our Cosmetology Educator, Gianna Aconfora describes Alison Johnson as a super
respectful individual with exceptional communication skills. Gianna goes on to say "she's
just a well rounded all American girl."

Alison decided to explore the hair industry; choosing the cosmetology program aligned
with her passions. Alison states "I chose the hair program because I enjoy doing hair the
most."
Alison looks forward to learning more within the beauty field. Alison also finds
fulfillment in growing more confident in doing hair with consummate style. Alison is
expected to graduate this month!
---
The International Institute of Cosmetology proclaims Julia Clement as our student of
the month from Plainville's Campus!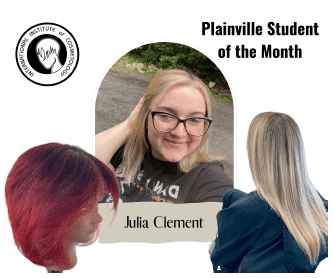 According to our Cosmetology Educator, Amber Blackthorne; Julia is
"motivated each and everyday to be the best stylist possible. Julia shows up ready to
tackle anything the day brings and does so with a sense of poise. Julia's motivation stands
out from the crowd."
Julia chose the cosmetology program to acquire the skill of styling. Julia loved doing
everyone's hair growing up. Julia also enjoys spending quality time with each client. As
mentioned "I love to form bonds with the clients." In order to properly provide the
hairstyle each client requests, Julia finds that it is best to first establish a relationship
with the client. Julia looks forward to learning more about the industry as she fuels her
knowledge. "I also look forward to building a clientele that will allow me to expand my
horizons along with theirs." Julia is expected to graduate this Fall!
To see other hair trends or school related posts visit our blog at https://www.studyhair.com/blog/ or our facebook page https://www.facebook.com/studyhair
"The International Institute of Cosmetology is an accredited, family owned cosmetology school with campuses in Wethersfield and Plainville, Connecticut. IIC was started in 2002 by Carmelo Gugliotti and his sons with the underlying desire to bring International beauty trends into the Northeast. IIC has grown to be the Leader in Beauty Education, specializing in Hair, Skin, Makeup and Advanced Education. #studyhair #iCANatIIC"