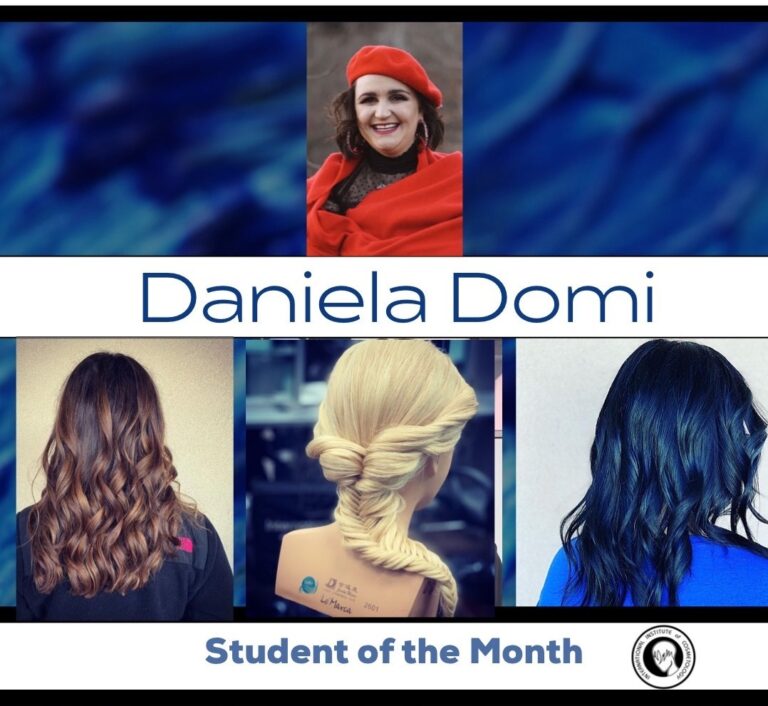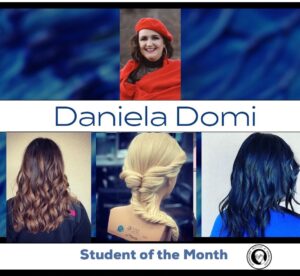 Danjela Domi received Student if the Month at our Plainville campus. Here is a recent interview we had with her and please join us in congratulating her.
✨1- Why do you think you got Student if the Month & were you surprised?
There are so many people that deserve it. They come everyday, even when they have other responsibilities. They have kids and other important obligations outside of school and they are still here.
I was surprised to get it. My mindset is to help other students and the whole team. Everyday, I like to make people feel special. My goal is to make everyone feel welcome.
✨2- Was there a time in school when you were like wow this is what I'm meant to be doing?
Yes, My 1st client!
I started Phase 2 and Miss Amber was my teacher. The client sheet said the client just wanted a toner. "I thought phew this will be easy".  She had a faded red. After the consultation, I realized the client wanted blonde hair. "Quickly I thought oh boy…I wanted to cry.". Miss Amber gave me a hug and reassured me I got it!"
I did a full hilite and the client loved the results and so did I.
My heart told me this is what I'm meant to do.
The happiness from the client and Miss Amber's support gave me the confidence to know my purpose.
✨3- When do you graduate and what are your salon plans?
My graduation date is in the first week of March. Right now I'm interviewing to find the right fit salon for me. My goal is to pick the salon that can be my hair home long term.
✨4- How did you know this was the right plan for you.
I moved from Europe 6 years ago. My job was working in the back of a restaurant prepping food. I wanted more interaction with people where we could talk and I could make them happy. "After my first tour with Brittany, I knew International Institute of Cosmetology was the school for me." My son just turned 1 and I knew I wanted him to talk about how good his mom was doing in the hairdressing world when he grew up. I want to be the mom that he's proud of how I work.
"I want to give credit to all my teachers. The teacher that I hold so dear is Miss Kesha. She gave me my foundation. She taught me how to hold my shears, blow dryer and so many other things. Miss Amber worked with me sooo closely in the color bar. She taught me how to formulate color and what to use when. All the teachers here are supportive professionally and personally. They knew I felt like I had a language barrier. They always took the time to explain things to me. My classmates did as well.
Miss A is the "cherry on top of the cake". She has been the most important person in my schooling. I never had any issues, if I needed to talk about something…she was there.
To see previous student of the month stories or school related posts visit our blog at https://www.studyhair.com/blog/ or our facebook page https://www.facebook.com/studyhair
"The International Institute of Cosmetology is an accredited, family owned cosmetology school with campuses in Wethersfield and Plainville, Connecticut. IIC was started in 2002 by Carmelo Gugliotti and his sons with the underlying desire to bring International beauty trends into the Northeast. IIC has grown to be the Leader in Beauty Education, specializing in Hair, Skin, Makeup and Advanced Education. #studyhair #iCANatIIC"