In a world of instant gratification many clients are looking to change their haircolor often and in many cases quite different than what they had. In comes color correction, color correction can be as simple as evening out tones in hair to complete multiple decolorizing treatments and filling the hair with a base color. Eeek! Recently, International Institute of Cosmetology, cosmetology student Jada did a color correction that came out great. Check out what she had to say about it…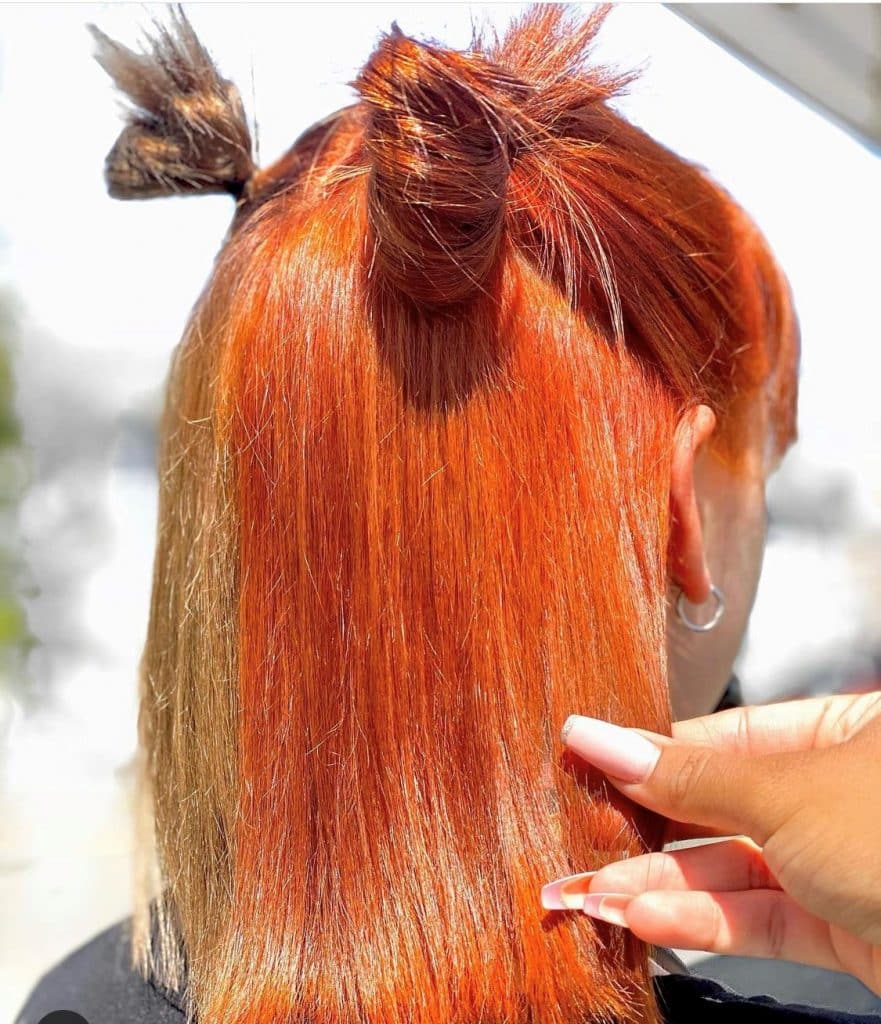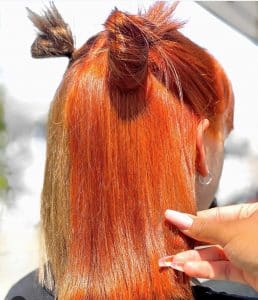 🌿How did you decide on the color?
My Client enjoys multiple colors at once. She came to me with the idea of a light brown and a orange. She agreed on doing a beautiful copper hue on her because I thought it would bring out her eyes & her freckles. The color would compliment her perfectly.
🌿Any tips on color correction?
While doing the color correction one side was black while the other was a faded with green, purple, and grey. After lightening her, the black became already a nice auburn. The other side lightened to a greenish yellow. Therefore, I decided to mix a brown with some gold and red-violet to cancel out the green but still leave it with some warmth. I thought those two colors complimented each other perfectly.
🌿Any tips on application?
Make sure to create an even part. I used clips to hold down any baby hairs or flyaways that were sticking up. Her copper side was more
healthy so I decided to do the green half first. That allowed me to wash it out a little sooner than the other side if I had to.
🌿What advice would you give if someone is working on a client that changes colors often?
When changing the color a easy color to eventually put over another one is something warm. It is going to fade so a nice red or dark down. If you want the orange color to be more cool add some blue into it to neutralize it. While the over side you add red to cancel out the green ashy color that we started with.
To see other hair trends or school related posts visit our blog at https://www.studyhair.com/blog/ or our facebook page https://www.facebook.com/studyhair
"The International Institute of Cosmetology is an accredited, family owned cosmetology school with campuses in Wethersfield and Plainville, Connecticut. IIC was started in 2002 by Carmelo Gugliotti and his sons with the underlying desire to bring International beauty trends into the Northeast. IIC has grown to be the Leader in Beauty Education, specializing in Hair, Skin, Makeup and Advanced Education. #studyhair #iCANatIIC"